Bloomington Indiana resident spends three weeks in Waveland Mississippi
.
Circus James hard at play for Halloween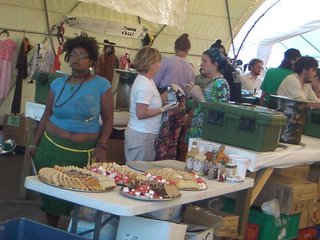 KiKi and her wonderful catering skills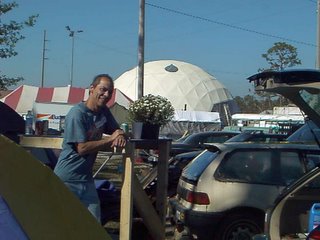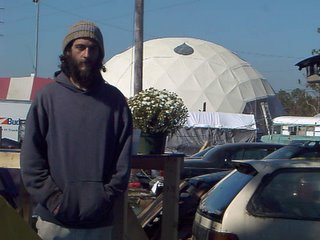 James and Colors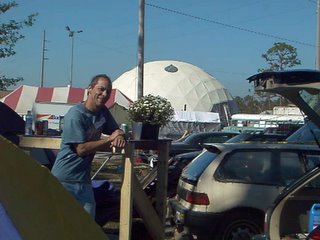 in staff camp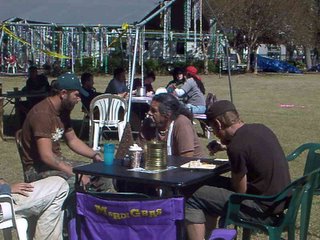 New Orleans, Common Ground Relief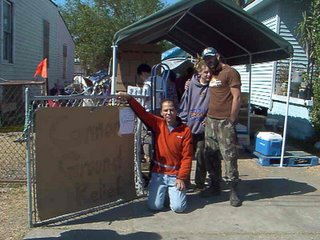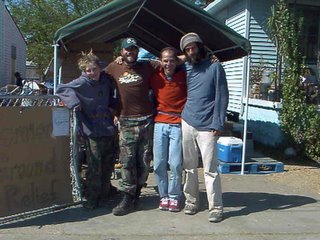 A visit to a New Orleans Common Ground distrabution center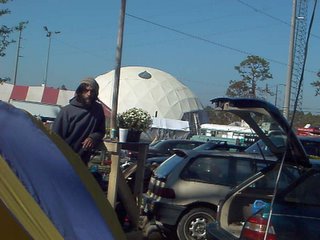 ,Look how small it is...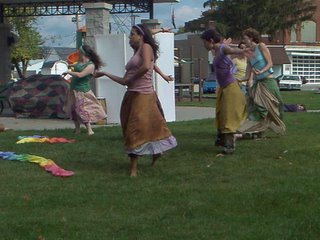 Oopss...Momma accidentally loaded this one and can't figure how to take it off,The Earth Momma's from Indiana...
Words from Circus James
October 2005 Waveland Mississippi trip allowed me to work with some of the best humanitarians in the United States. Grass Roots efforts from the few that could break away from the nine to five, converged in a parking lot to form the 'New Waveland Café', serving free food, child care, and medical treatment, along with a free store run by BCOC. As one of the hydration captains my duties included, stocking coolers with bottled water, tea, sports drinks, juices, milk and lots of ice. Serving times were most important to help the people, mostly elderly to find their drinks. Occasional mobile hydration runs are made though out the parking lot on foot, passing out iced bottled water to the people standing in lines, and the workers helping them. There is no better feeling than to relieve a hot thirsty individual. Hundred of faces, whom I've never met, smiling back at me, saying thank you, was one of the biggest thrills for me. The best moments for me, where performing for the kids, juggling on Halloween night as a clown, their smiles are something I'll always carry with me. I was but one small part of an extensive kitchen serving hot gourmet meals, three times a day. It is hard to find a more productive place to be, too bad the Café is leaving after Thanksgiving.
A note from Momma...
After talking to locals via phone, I have learned that there will still be a need for a kitchen with means to feed anywhere between 50 to 200 people, mostly elderly that cannot yet cook for themselves, so my family and I are going down to help fill in the spaces...We will be staying for up to two years or more if needed, we are presently trying to pull everything together so that we can be back down in Waveland by Thanksgiving...Wish us luck...